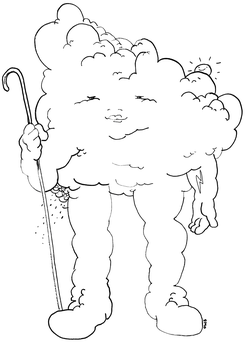 How clouds want to work is well known.
Anyone who wants to know how clouds work can read the treatise DER PHILOSOPHISCHE BAUER by our honorary chairman Johann Andreas Naumann, which founded international cloud research with a bang in 1791. 
In the chapter "On the Effects of Nature", page 19, it is written:
"Why are you talking about clouds here, since I heard from a young age that clouds rise from the great ocean? you will ask here. Yes, my friend, you heard right, the clouds certainly rise most frequently where the Most of the supplies are water, but the moisture also rises from the earth and mixes with it, and is fertilized by the astral seed from above, and falls back down to our earth in the form of rain nature on the high mountains, where it flows down in the form of a strong dew, and pours itself into small streams, of which finally several come together, from which great rivers become, which take their course again to the great ocean."
This knowledge serves the philosophical farmers almost every day as an orientation aid on cloudy fields and meadows - even more so when the sun is blinding.
Where clouds want to go is unknown
But!
If you want to know where clouds want to go - yes, you will be left at a loss, because nobody knows. Not even the beautiful choir leader of the choir of clouds gives useful instructions on this. In the ancient comedy THE CLOUDS, written by the good Aristophanes in 423 BC. B.C., it is written in verse 1510:
"The choir leader. (To the choir.)
Now go out: because today we danced passably in the round dance!"
We ask helplessly: And where did the cloud dance go? Nobody knows!
A few centuries earlier, the 2nd book of Moses also remained incredibly daring and non-binding when it merely announced succinctly that the LORD intended to appear "in a thick cloud". (Exodus 19:9)
We ask helplessly: Yes, and where are we going afterwards?
In the end there are only helpless conjectures about cloud walks. Heading to the famous (Aristophanes again!) Νεφελοκοκκυγία / Nephelokokkygia / Cloud Cuckoo Land?
Who knows? We do not know.
Prize question 2023: Where do clouds want to go?
So that this can be clarified once and for all, this year's prize question is: Where do clouds want to go?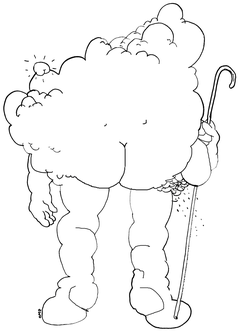 Official call from Johann Andreas Naumann
As honorary chairman of the Philosophical Farmers, I hereby call for:
To answer the question "Where do clouds want to go?"
Document the answer on a postcard.
Send the postcard to:
Die Philosophischen Bauern, Friedrichstraße 23a, 10969 Berlin
The following conditions of participation are binding:
Response format: postcard (length 14 - 23.5 cm / width 9 - 12.5 cm)
Design: free (written, drawn, painted, glued, printed or whatever you like on the front and/or back)
Sender information: optional
Multiple submissions: unlimited
Closing date: Friday, December 01, 2023
A winner will probably be determined on the day of the closing date after the ceremonial opening of the Philosophical Farmers' mailbox. Maybe I'll donate a prize - but gaining fame and honor will be a matter of course.
All submissions will be presented in a suitable form on the Philosophical Farmers' website. 
Kind regards
Johann Andreas Naumann
The Philosophical Farmers
Honorary Chairman